Entelechia: Olive oil with the philosophy of perfection
THE OLIVE OIL
Entelechia olive oil comes from the excellent quality green olive of Chalkidiki. It is produced exclusively by cold pressing, preserving its rich taste, aroma and color.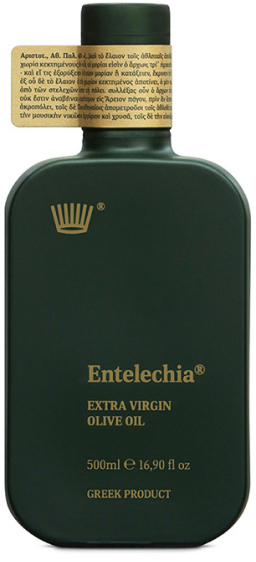 It is characterized by a bitter and spicy taste with a long aftertaste, because it belongs to medium intensity olive oils. Its fragrances remind you of fresh grass, olive and tomato leaves, artichoke and almond. In addition, its important antioxidant substances as well as the vitamins it contains (A, K, D) are preserved, while its acidity remains low.
We preserve the Entelechia olive oil in an elegant glass bottle. Its dark color protects the olive oil from light and maintains its excellent quality. Each bottle of 100ml, 250ml & 500ml encloses our spirit, the Aristotelian philosophy, Entelechy. It's the path from seed to plant, from olives to olive oil, that we call integration.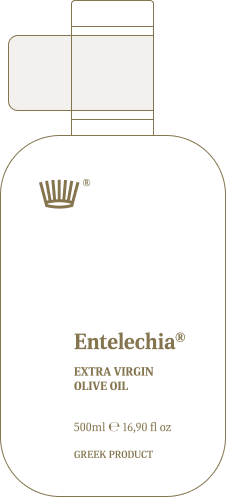 THE PLACE
The history of our land is hidden in the entire taste
We are fortunate to live between the homeland of Aristotle and Mount Athos. Our land is Gomati, a picturesque settlement on the Eastern side of Chalkidiki. The excellent quality of the soil interacts with the unique median microclimate. These best environmental conditions are the factors that contribute to the cultivation of the olive.
The green olive of Chalkidiki belongs to the variety "Chondroelia" & "Chalkidiki" of the species Olea Europea, which is unique in the world and has been cultivated for 2000 years. It is the largest fruited green olive among the Greek varieties. This variety is used for olive oil production and for eating the fruit of the olive. The adaptation of the olive trees to the soil and climatic conditions of the area are reflected in the slightly bitter taste of the olive and its gentle fruity aroma.
From passion for quality to award
The love of the people of Paschalas Olive Oil for olives and their products, the dedication and the continuous effort, are a part of the recognition, which is the foundation of the award-winning olive oil Entelechia.
THE HISTORY
Aristotle and the Moriai Olives are a source of inspiration
The origin of the sacred olive tree is lost in the legends and traditions of the peoples of the Mediterranean. The first olive was planted – as a gift – by the goddess Athena on the Acropolis and was called "Moria Olive".
In his work "Constitution of the Athenians", Aristotle describes the abundance of olive trees in Athens, studies them and relates their cultivation to science. The oil produced by the "Mories" olives was delivered to the "Treasurers" of the Acropolis, who kept it to share it during Panathenaea to the athletes to smear their bodies, or to the athletes the "sponsors of the events" who awarded amphorae filled with olive oil to the winners of the Panathenaic Games. They were stored in black-figure vases, the famous Panathenaic amphorae.